Content
Greenpower Info
Beam supports Chipping Sodbury Schools Greenpower project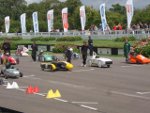 Greenpower Support
Development Services
Solution Development
If you need a solution to some instrumentation, control or other need we can design for you a suitable, cost effective, solution. Our wide ranging experience in research and development enable us to understand your needs and produce suitable innovative designs.
Products Development
We are foremost engineers working in the fields of electronic hardware and software engineering. If you require a product designed we excel at investigating client requirements evolving simple and elegant solutions. We can assist in developing your ideas from concept though prototype and onto saleable product.
As well as a contract based approach, we can work at a closer level of integration into your product development team, in essence act as a technical development and support group for your product. Costs for this can be on a man day basis or on a reduced man day rate plus a share of product profits scheme.

Systems and Software Development
We are able to undertake all levels of system software and hardware development from R&D through to production packaged systems. All of our engineers have hardware and software experience allowing us to closely couple the two disciplines yielding efficiently implemented designs. We have especially detailed experience of the Linux operating system allowing us to design and implement real-time 24/7 systems within this environment be it in an embedded system or a multi-processor server.
We can design software under closed or open source licenses as required. Normally the source code and hardware data for the systems we develop is supplied to the client so that they can continue development themselves, if they wish. We also are happy to provide flexible and cost effective support contracts.
It is normal for us to quote a fixed price for a development contract based on a formally agreed specification. For the smaller items of work, man day pricing may be more appropriate.
Electronics Development
All of our engineers have extensive software and hardware experience. On the hardware side we can design digital and analogue electronic circuits developing to PCB prototype or small to medium production runs. With our partners we can design mechanical assemblies and move to higher level production runs. We have in-house circuit and PCB layout facilities and a neighbouring company can provide board production and assembly.
IoT Network Appliances and Embedded Systems
An IoT Network appliance is a device dedicated to perform a simple task that is connected to a computer network either using Ethernet, WiFi wireless or other network connections. A Network appliance typically has simple configuration options and is designed to operate 24/7. They are usually controlled from other systems connected to the network. BEAM has extensive experience designing and implementing Network Appliances and Embedded systems. Quite often these systems are based on low power single board computers, although we also have experience in designing systems using standard Intel PC architecture. We have ported Linux to run on a variety of platforms including those based on the ARM and PPC architectures.
Typical Network Appliances include:
Instruments, Sensors, Laboratory Equipment, Network routers, Network Camera's,Digital TV servers, Network file servers, Data I/O devices.
FPGA Systems Development
In recent years BEAM has been involved in the development of systems that utilise reconfigurable hardware. Specifically field programmable gate arrays (FPGA's). The FPGA solution is suited to many high performance, real-time tasks. They are most suited to tasks where a high level of parallelism at a low level is present.
Research and Development
As well as conventional design and development, BEAM's engineers are able to carry out effective research and development projects. This allows BEAM to be involved at an early stage of a products life cycle and provide useful research input into a project.
Client Communications
With any project good communications between the client and the developer is essential. Being a small company we can offer close communications with the engineers who will perform the work. We also provide a support website for the project allowing specifications, documents, software and firmware releases to be accessed as well as bugs and issues to be tracked. This website can be secure or open depending on the projects requirements. Please take a look at some of our open support websites for more information: Support
Skills
BEAM's engineers have wide ranging abilities. However, the primary areas we have detailed experience in include :-
Instrumentation techniques and systems
Sensors and data capture/processing

Control systems

FPGA based processing systems

Network appliances
Real-time systems
DSP systems
DSP techniques

FPGA processing systems
Parallel processing systems

Embedded systems
Open Source development
Web systems
Robotics
3D Printing
Case design
System and hardware simulation
CFD modelling and engineering mathematics


Linux Systems
Linux Device Drivers
Linux GUI applications
Unix X-Windows internals
Communications systems
Networking, Internet, TCP/IP, HTTP etc

Web programming
Video
Compression technologies: MPEG2, MPEG4, H264, MP3 etc.
Motor control brush-less and DC.
Power supplies
Battery supplies including charging
Schematic and PCB design and production

Test and Measurement
CE emissions, susceptibility and safety testing
Thermal management

The software and hardware specification languages we have detailed experience of include :-
Software
Hardware

C, C++
Python
PHP
Javascript

Java
Matlab/Octave

Shell
SQL, MySQL databases
Assembler
Verilog
VHDL
Linux systems
Microsoft Windows Systems
LynxOS
FreeRTOS


Intel X86 processor range.
Intel Atom processor.
Power PC processors
ARM processors Cortex and A series

PIC micro controllers
Amtel micro controllers
Analogue electronics
DSP processors
FPGA (Field programmable gate array) chips
Gigabit Ethernet switch chips
JTAG
I2C, SPI, I2S, RS232/RS485, CAN, 433, 868
GPRS/GSM/GPS
RF including Zigbee, Wifi, Bluetooth
MOSFET Motor power drive
LCD graphics systems
Consultancy Services
Typically, our consultancy service is used by research/development organisations. The customer usually has expert domain knowledge in their application area but lack system expertise, integration expertise, or are short of manpower. We are able to 'Kick start' customer development. Here we can develop code in a generic manner that the customer can then take and apply the final tweaks for their final requirements,in a manner of speaking the creation of a template. We sort out the 'nitty gritty' leaving the client the flexibility for the final polish.
Device Drivers
Device drivers bridge the important gulf between hardware and software, where the hardware functionality is mapped onto a standard operating system interface. The hardware background of all our staff is an important factor in producing clean and not unduly complex device drivers. We can develop Open Source drivers for the Linux operating system as well as Microsoft Windows drivers. Our goals are reliability, simplicity and maintainability.
Product Development
BEAM can provide assistance in the full product development cycle. From client concept to product reality.
Reduced learning curve for clients
Import of non core domain knowledge
Quicker time to market

Fixed price contracts ensure cost efficiency
Viable alternative to contract staff
Retained expertise
We have in-depth knowledge of the working of systems and can produce systems software that can perform for the most demanding applications. Please don't hesitate to contact us for an informal chat or a visit.